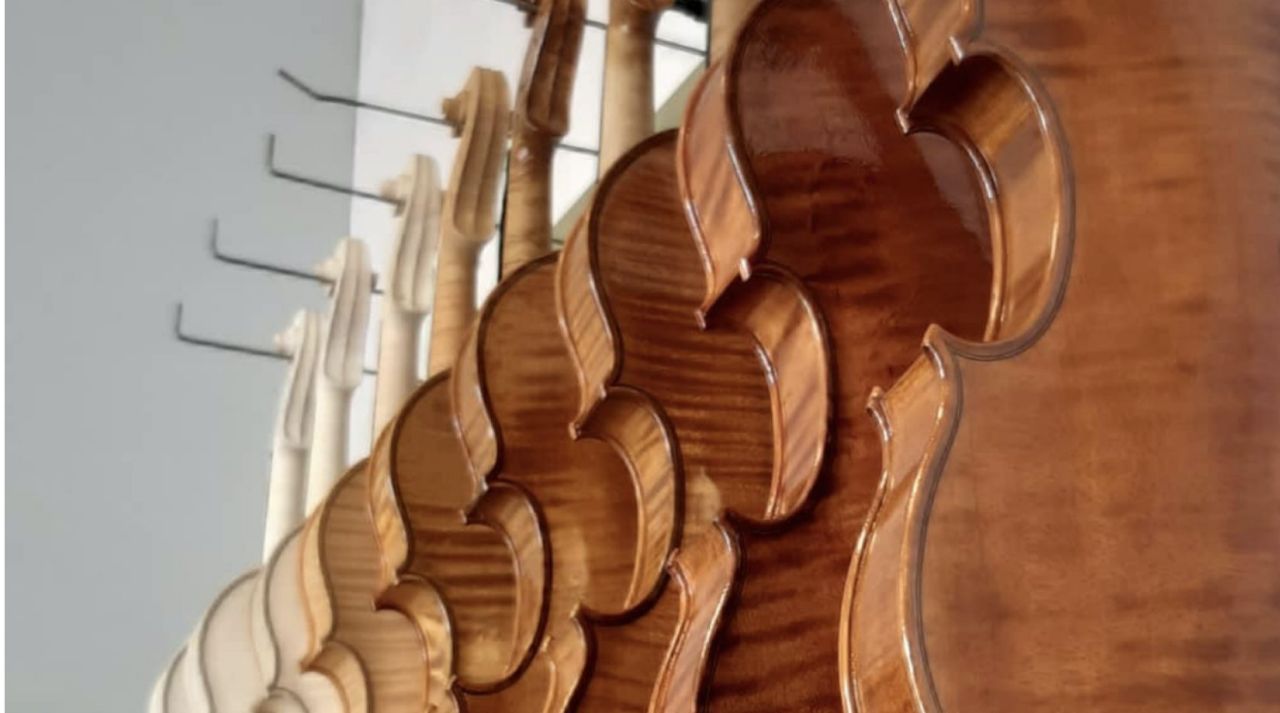 Training
The first year starts with a number of preparatory exercises that familiarize the pupils with fine woodworking and the aesthetic concept of the violin. Then they start to build the first violin, the Mediceo model by A. Stradivari from 1716, which will be finished by the end of the year.
In the second year a violin or viola is built and in the third year a cello can be built. Depending on the personal pace of the student, additional instruments can also be built. Baroque violins, altos, or cellos are also possible.
When building these instruments, the accompaniment takes place in groups and is also individually oriented.
Building an instrument is a complex process of insight, patience, and perseverance, and each student walks this path according to his or her own personality.
The practical workshops are large work and study areas where theoretical knowledge is passed on alongside professional skills.
The time-honored student-teacher situation from the heyday of this respectable craft is thus honored and at the same time meets the requirements of project-based and integrated teaching.
All instruments are presented to an external jury at the end of the year.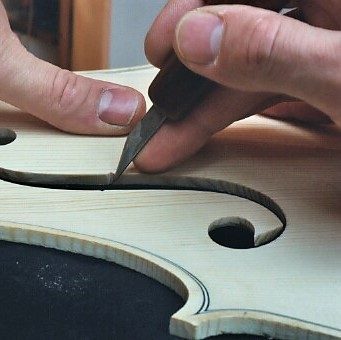 Technical subjects
The technical subjects cover a wide range of knowledge specific to stringed instruments: the history of violin and guitar making, the great European traditions, stylistic studies, scientific research, the study of literature, the study of wood, professional ethics, listening exercises, applied acoustics, etc. Many of these lessons are held in or around the school.
Many of these lessons are given in or around the practice rooms or are integrated into the practical lessons themselves.
Sometimes visits are planned to concerts, museums or wood traders abroad.
In Technical Drawing, building plans or contour studies are drawn, both manually on paper and digitally with Autocad techniques.
In Music, the students make music. The level is adapted to the individual capacities of each student.
At the end of each academic year, a workshop concert is organized at which professional musicians play the newly completed instruments made by our students. Before that, there is also feedback for the students during which the professional musicians assess the instruments on their playing qualities. This is an instructive moment that our students look forward to!
Internship
In the 3rd year of instrument making and in the restoration year, compulsory internships are included.
In consultation with the teacher, the student looks for an internship with an established builder or restorer. Museums can also offer suitable work experience places.
The duration varies from 2 to 3 weeks. The contacts and experiences that the student gains this way are very important.
ILSA aims to train high-quality violin- and guitar makers. This cannot be done without giving them the opportunity to test themselves against the reality of the profession. That is why this extra year of restoration is very important. In combination with the external apprenticeships with renowned luthiers, it forms the ideal starting point for an apprenticeship with master builders.